Sigiriya
In February 2020 I returned to Sigiriya to revisit this amazing stone. Here is my experience.
Where to stay
There are 2 big towns near Dambulla and Habarana. I stayed in a lovely hotel in Dambulla. There is a 4-hour bus to Dambulla from Colombo. There are 2 types of buses: public and private. The public is very cheap and run by the government but not very comfortable.
Dambulla is a bigger town than Habarana. It has more hotels, shops, and restaurants. There is a travel destination there called Dambulla cave temple.
Getting to Sigiriya
There are 2 options to get to Sigiriya: bus and tuk-tuk. They told me the bus will not go this day because it was a Poya(full moon) day. Also, more people visit the store every day.
Tuk-tuk costs 2k Sri Lankan rupees for half of a day. I've had breakfast in 7 30 and got the ride in 8 am. It is only 20 minutes ride to the Sigiriya park
Sigiriya
Tuk-tuk comes to parking at the park entrance. There is a ticket office, where it is necessary to buy a ticket for 30 USD. There is a little park before the stone with ruins. There are a lot of monkeys goes around.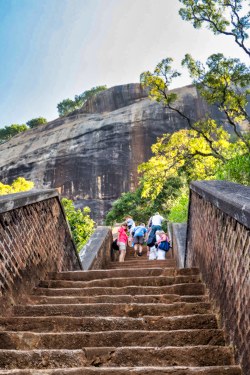 Just before the stairs, local guys are asking for money to show you a shortcut. The shortcut really exists, so just start going the way they show and turn left to another stair. It can actually cut the line for 10-20 minutes.
After the path along the wall, there will be the famous lion gates. Here the final way upstarts. Sometimes can be a line there too. The stairs are very narrow. The one side is to go up and another down. It takes about 20 minutes to get to the top because so many people go up. I was going one step in 10-15 seconds.
At the top there a throne, tanks to store rainwater and other ruins. A great place to get photos. After exploring it and taking photos it is time to get back to the tuk-tuk.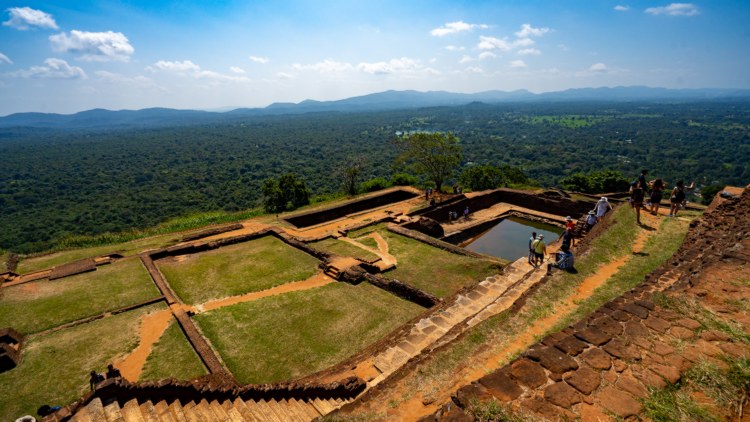 Pidurangala
The next place to go is the Pidurangala stone. Tuk-tuk ride there is only 5-10 minutes. At the entrance, they check the backpacks. They don't allow me to take my drone, so I left it for storage. I was really disappointed with this. It is a 10-15 walk with simple climbing. The place has an amazing view of Sigiriya. It has a big stone field, which would be amazing to fly a drone around, I hope some people could smuggle it. The photos from there are amazing and it is totally worth to visit it.