Nungwi, digital nomad guide
In 2020/21 winter it was getting cold in Russia and I needed to go somewhere south for wintering. Tanzania was open without any restrictions, so after spending a month in Dar es Salaam I went to Nungwi Zanzibar, and here is my review.
Pros and cons
+ the beach is amazing
+ water is blue as it can get
+ there is a disco everyday
- food is simple and expensive
- small choice of apartments and hotel
Cost of Living
I spend 2 weeks in Nungwi and it cost me around 1600$. For a person traveling alone, it is not a cheap place. But it is possible to spend less if before coming there make some preparation: book a place with other people, cook at home and don't go out.
Accomodation
Lack of budget accomodation is a big problem here. Hotel prices starts from 70$.
Nungwi is a beach resort, so it does make sense that most accommodation is an expensive hotel near the beach, price starts from 120$. It is really hard to find a budget place to stay on any hotel site or Airbnb. I would recommend getting something for a couple of days and then try to ask locals for a room.
The best way is to join some internet expat community and ask for a rent there.
My airbnb costed about 40$, and was ok, but It doesn't have a place to work on a laptop.
Coffee Shops and bars
Considering coffee shops Nungwi is not that friendly as Dar. There are 2 types of restaurants: for tourists and locals. Tourist places are located near the beach at the main square, they are quite expensive and have not very good internet quality. Locals are located near the circle at Nungwi road near the circle.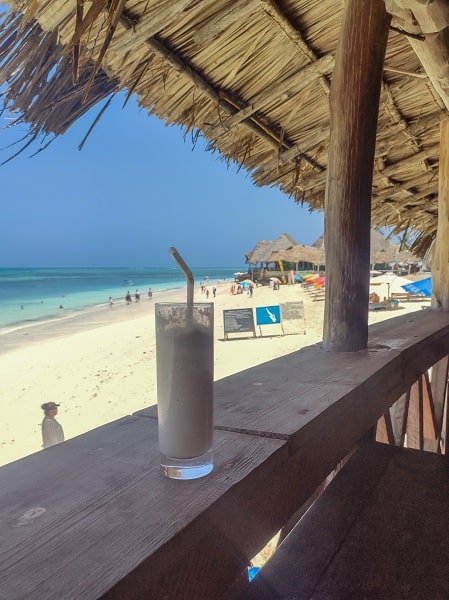 Nightlife
There are party almost everyday in different venues.
In 2021 the timetable is
Monday - Relax day (no party)
Tuesday - Istanbul restaraunt
Wednesday - Cocobello
Thursday - Cholo's Beach Bar
Friday - Istanbul restaraunt
Saturday - Kendwa rocks
Sunday - Cocobello
Cocobello
I lived near Cocobello, so it was my favorite place to party. It is a restaurant but on Wednesday and Sunday, they move tables to clear the dance floor.
It is usually crowded around 12 pm. Half of them are locals, others are tourists. The unique thing about Cocobello they hire people to dance African dances as a show. Prices are usual in Nungwi 5$ for entrance and 4-5$ for beer.
Istanbul
Big restaurant located near the beach. On Tuesday and Friday, they move tables for the discotheque. Entrance costs 5$, beer 4-5$ and cocktails around 8-10$. Recommended coming around 11-12 pm. Usually, I've met the same people there, who were partied also in Cocobello.
Kendwa rocks
It is located in Kendwa, which is a bit far. To get there from Nungwi there are 2 options: take a taxi for 10$ (prices at the night are higher) or 30min walk. I walked and had no problem, but for others, it could be an issue. It is not recommended to walk alone at night at Nungwi.
Kendwa rocks is a hotel that has a big beach area to host parties. It has a big table area to chat and drink, but the dance floor is much smaller than in other places.
It is alose more expensive than other places. I've checked it once but would not go again.
Girls
Keep in mind that the island is an orthodox Islam place, so local girls are conservative. There are European and Asian tourists visiting the island, so it is possible to meet new people at bars and the beach.
Tourist spots and activities
The main tourist spot is Mnarani Marine Turtles Conservation Pond. It is located in the north of the island. It is possible to swim and take photos with turtles there.
Northern beach
There is a difference between northern and eastern beaches. Northern has low tide and at some point, it is possible to walk there near ships that stand just on the sand. It is a nice place to take photos and enjoy the sand. Plus there are much fewer people at the northern beach.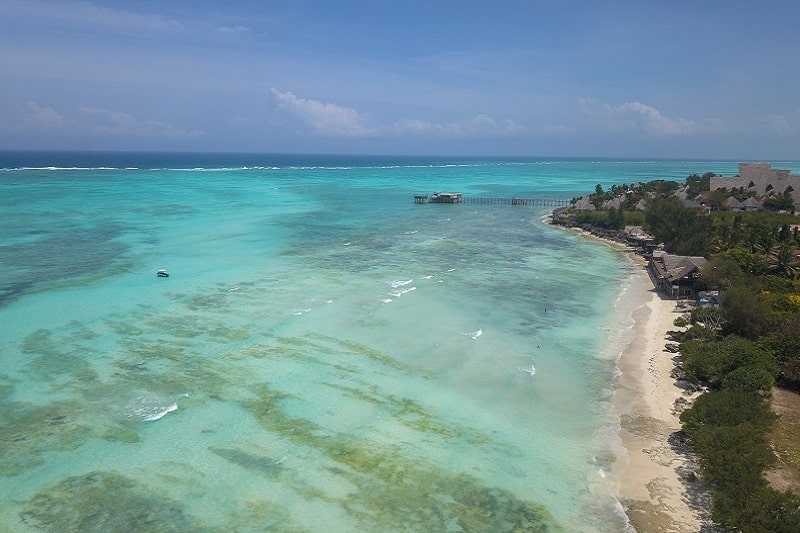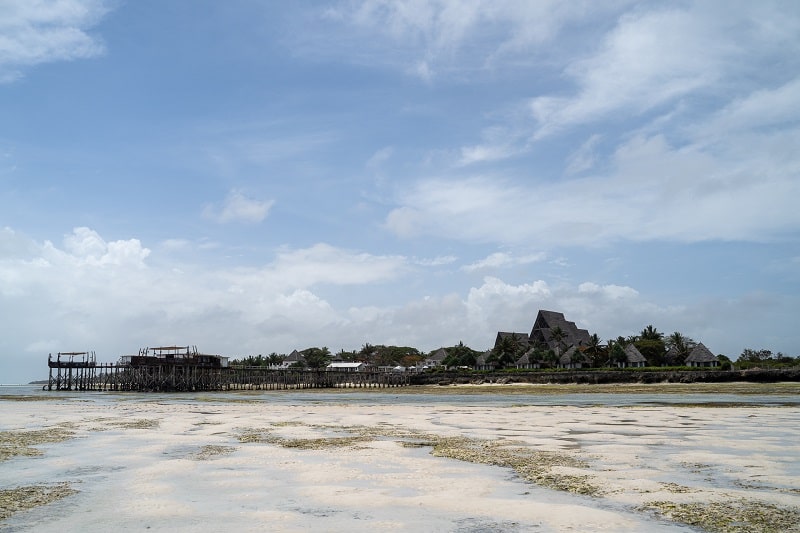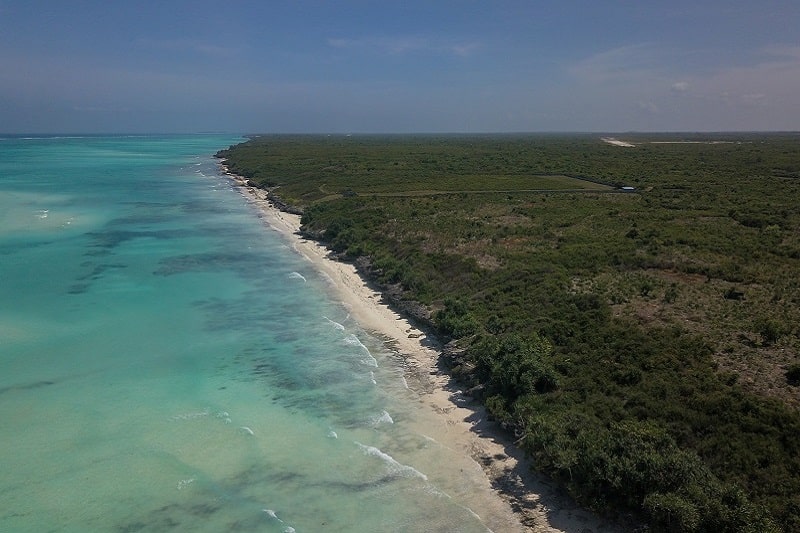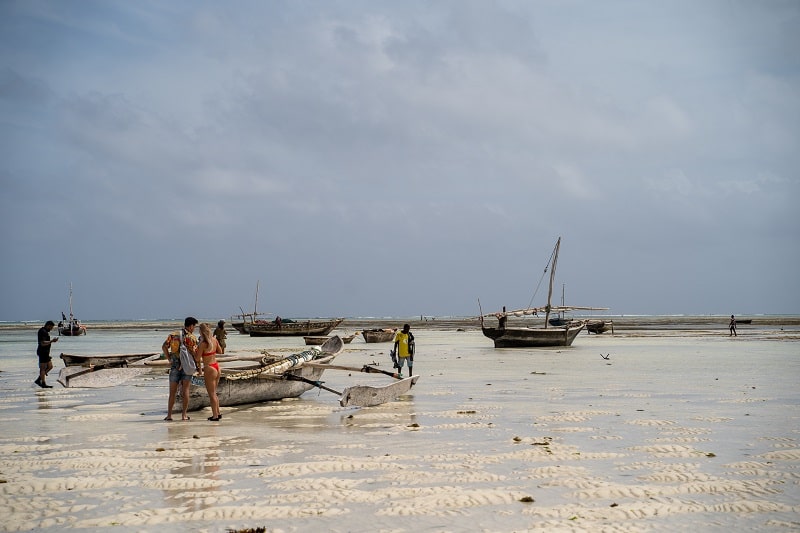 Rent a jet ski
At the beach, it is possible to rent a jet ski for a decent price. I paid 60$ for 20 minutes. There were little waves on the ocean at that moment, it was fun to jump on them. I had no issues.
Summary
Nungwi is a nice place to stay and work from there for 1-2 weeks to enjoy the beach and other activities. But lack of other infrastructure and high costs makes it hard to stay there a long time.